Jump to: Board of Directors | Staff | FOAS-funded Shelter Staff
Board of Directors
Lindsay Dadko, President
Lindsay has spearheaded hundreds of high-profile actions across the country and internationally to bring attention to the plight of animals. She has been a voice for animals in numerous media outlets including The New York Times, The Wall Street Journal, National Public Radio, The Washington Post, and more.
In addition to serving as a cat volunteer, dog volunteer, social media coordinator and volunteer mentor at Oakland Animal Services, her past community service include volunteering at a battered women's shelter, a home for the elderly, serving as the interim political director for a successful initiative to raise the minimum wage in Florida, and participating in a campaign to provide more funding to Minneapolis and St. Paul, Minnesota, public schools.
Today Lindsay works with prominent philanthropists to help animals and the environment. Lindsay lives with her husband Andrew and four companion animals, OAS alum Grackle Baldwin (cat), Falcon Jeffers (cat), and chihuahua/chihuahua mix rescue pups Russ and Shelby
Emily Derenthal, Secretary
Emily has been an OAS volunteer since 2016, and FOAS board member since 2019. She came to the shelter after moving back to Oakland from the East Coast as a way to give back to the Oakland community and learn more about animal welfare. At the shelter she primarily works with cats and as a mentor training volunteers.
By day Emily works for the City of Oakland as a Human Services Program Analyst managing programs serving individuals and families experiencing homelessness in Oakland and Alameda County. She has worked in the field of human services and homelessness for 10 years for nonprofits, federal, and local government and has a strong background in grant management and program evaluation.
Emily grew up in Oakland and lives in the Eastlake neighborhood. While her living situation hasn't allowed her to adopt from OAS (yet!), she enjoys spending time with her friends and family's animals and advocates for all of them to adopt from OAS.
Kimberly Millington, Director
Kimberly has been a cat volunteer at Oakland Animal Services since 2015 and a member of the FOAS Board since late 2021. Kimberly fostered kittens (including bottle babies) for several years for OAS. She continues to work with kittens and cats at OAS as well as help train volunteers.
As a former member of the Rotary Club of Oakland, Kimberly has volunteered in Oakland schools, helped with funding for worldwide community service projects, and attended Rotary project fairs in Guatemala and Colombia.
She is originally from Southern California and grew up with cats, dogs, rats, birds, rabbits, fish, a turtle, and even ducks!
Kimberly is a trial attorney for a large insurance company. She lives with her furbabies, all of whom were OAS residents: cats Greta, Augie, Milton, and Dizzy, and dog Dottie. She cherishes visits from her grown human daughter and loves to travel.
Erin Patch, Director
Erin is a passionate and strategy oriented leader who has dedicated her career to developing and implementing solutions to social justice issues. As the President and Chief Operating Officer (COO) of The Unity Council (TUC), Erin's ultimate goal is to strengthen the organization so that it can better serve future generations in Oakland and the East Bay.
Erin is responsible for the strategic direction of the organization's 300 dedicated staff and $42MM annual budget, providing holistic support services to over 8,000 individuals and families, including high-quality early education, pioneering youth programming, robust senior citizen services and financial and career empowerment and affordable housing.
Erin is an Oakland resident and has been for over 20yrs. She's passionate about the welfare of Oakland's animals and believes that the strength and health of a community can be measured by how well we care for our most vulnerable. Erin lives in Oakland's Maxwell Park area with her OAS pup, Apple.
Ken Robinson, Director
Ken is a professional IT leader/partner with over 30 years of experience skilled at aligning strategy to implementing capability. Innovative and solution-oriented with expertise in IT development, technical solutions, and implementations. Adept at international leadership, partnership cultivation, and complex negotiations to deliver top financial results.  Ken is a Senior Manager in Human Resources Talent Development and Learning for Gap, Inc.  Previously, Ken served in a variety of IT Global Leadership roles for ISIMA, Gap Inc., American Airlines and Hewlett-Packard
Ken has resided in Oakland for over 26 years.   He lives with his partner Corey and three fur babies – Abby, Molly, Beau.   Abby and Molly have disabilities and were adopted from OAS.  Ken has a passion for all animals from small to large.
Trish Roque, Director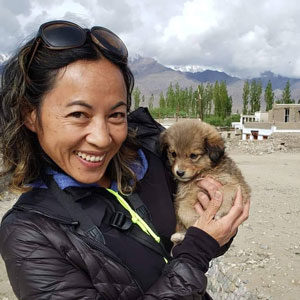 Trish has served on the FOAS Board since late 2019 and has been an active Oakland Animal Services volunteer since 2015. She has worked primarily with cats at OAS, helping to assess, socialize, and get them adopted into loving homes. More recently, she's been involved with TNR (trap-neuter-return) of community cats, having personally trapped and fixed nearly 50 cats and kittens in the past three years. In 2019, Trish traveled to Ladakh, India, where her TNR experience was put to use while volunteering to help get street dogs spayed and neutered.
Trish works as a full-time web developer at UC Berkeley, building web and online resources for K-16 educators. She and her husband live in Oakland with their four adopted cats and their OAS alum dog Lucy.
Yvonne Tsang, Treasurer
Yvonne has been involved with Oakland Animal Services for over 15 years in many roles: dog volunteer, dog mentor, kitten foster, dog foster (and foster failure), and FOAS board secretary, president, and, currently, treasurer. She is a graphic designer who also enjoys spreadsheets. She and her husband spend a lot of time at local parks wearing out their two kids and two chihuahua mutts.
Staff
Tony Cruz*, Executive Director
Bio coming soon.
Victoria Guzman*, Program Coordinator / Executive Assistant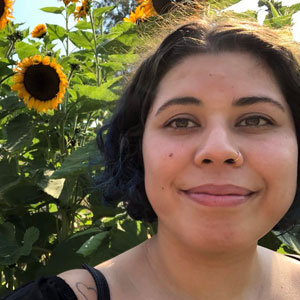 Victoria has been helping pet parents with their furry companions for the past 6 years by connecting them to the resources and information they need. She has learned the fine art of balancing excellent customer service and compassion with her experience working in various veterinary hospitals in the Bay Area.
Victoria is a Fear Free Certified veterinary professional and is bilingual fluent in Spanish. She received her BA in Liberal Studies and Spanish from San Francisco State University. Her love for animals flourished after adopting her first pet, Roger, from the San Francisco SPCA in 2012, changing her life trajectory. She lives happily with her cat-son Roger in the East Bay.
FOAS-funded Shelter Staff
Martha Cline*, Intake to Placement Manager
Jianna Fertado, Cat Program Associate
Steve LaChapelle, Dog Program Associate
Faith Levit*, Foster and Feral Cat Coordinator
Kay Martin, Dog Foster Coordinator
Meg McAdam*, Outcome Team Associate
Donell Randolph, Jr*, Human Animal Support Services Coordinator
Leanne Rinne*, Dog Foster/Transfer Coordinator
*Full-time