Jump to: Online Adoption Process | Adoption Requirements | Adoption Fees | Adopt a Working Cat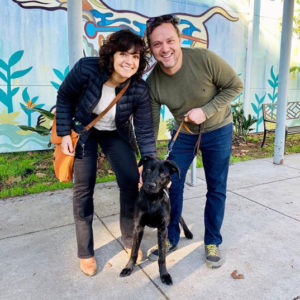 **We are currently offering waived/reduced adoption fees! See adoption fees here.**
Our goal is to help you find the right pet who matches your lifestyle and needs, bringing you lifelong companionship.
The shelter is open for adoptions on Thursdays from 12-7pm, and on Fridays, Saturdays, and Sundays from 12-3pm, no appointment needed. Please note that visitors may not walk through the shelter on your own to browse all animals. Instead, when you arrive, you will first speak with a staff member or volunteer who will help determine which specific adoptable pet(s) may a good fit before meeting those specific animals.
Important information about our adoption process:
All visitors must complete an adoption questionnaire/matchmaking form which you can fill out when you arrive. This helps us to match you with a suitable pet. If you have previously completed the form or submitted one online, you will still need to bring your completed hardcopy with you, or fill out the form again. You may print out a hardcopy of the form here: Cats, Dogs, Rabbits/Guinea Pigs, Other. 
To see a listing of all our animals available for adoption, go here. This is updated frequently so we encourage you to check immediately before your visit to see an updated list of available animals.
Animals listed as "In Foster" on our website are generally not at the shelter. For these animals you will need to use our online process to make an appointment (see details below). On occasion, foster animals may be at the shelter on a specific day or for a few days. We try our best to post these updates on our social media platforms (Instagram or Facebook).
Some animals may be available for adoption meets by appointment only. These are animals who tend to get overwhelmed by too many visitors. If an animal is designated as "by appointment only", this will be listed on their website profile found on our adoptable pets pages.

Due to our limited resources and staffing, adoption visits are limited to 15 minutes when there are other people waiting

You must meet all adoption requirements.
Before adopting a new pet, please review our  cat/kitten resources, dog/puppy resources, or rabbit resources to ensure you are prepared to add a pet to your household.
Online Adoption Process for Animals in Foster Homes
We accept email submissions of adoption questionnaires for animals in foster homes. While we try our best to get back to you via our online process, sometimes it takes several days or a week or two to get back to every inquiry.
After we have contacted you and had a conversation, and it seems the pet may be a good fit, we will schedule an appointment for you to meet the pet in-person, usually at the shelter. If there is another potential adopter interested in the same pet, the in-person meet must be scheduled in a reasonable timeframe (e.g. within 1-2 days) as we cannot hold the pet indefinitely.
Please note:
We review adoption questionnaires in the order in which we receive them. We typically contact one potential adopter at a time. If things do not work out, or if we do not hear back, we move on to the next potential adopter. This means that it may take several days, or sometimes a week or two, for us to review adoption questionnaires submitted via email.
If we have not contacted you to confirm an appointment, the pet you are interested in may get adopted during open adoption hours or at an adoption event.
Visitors at open adoption hours or events are helped in the order of arrival, regardless of whether you have submitted an online adoption questionnaire.
To adopt a dog or cat who is currently in a foster home, email adoption@oaklandsanimals.org with a completed Dog Adoption Questionnaire or Cat Adoption Questionnaire
To adopt a rabbit who is currently in a foster home, email rabbits@oaklandsanimals.org with a completed Rabbit Adoption Questionnaire
Save your form and double-check that it is not blank before submitting it.
Include the name and identification number of the animal (as listed on our website) in the email subject line.
In the body of your email you may provide more information on what characteristics you are looking for in the pet you adopt, and details on your lifestyle and household including any current and past pets.
Before submitting your questionnaire, please check that you are allowed to have a pet where you live. This may include confirming with your landlord, renter's insurance, home insurance, etc. on any restrictions on breed, size, number of pets, etc.
You must meet all adoption requirements listed below.
Adopt a Working Cat
Are you interested in adopting an outdoor working cat? Learn more about how to apply for a working cat here.
Adoption Requirements for all animals:
You must be 18 years of age or older
All children in your household who are 12 years and under must be present to meet the pet you are adopting
Bring your photo ID, for example a valid California driver's license or other official photo identification such as a valid passport
Bring a form of payment (cash, check, Visa, Mastercard – note that credit cards are not accepted at offsite adoption events). Adopters must pay the fees the same day as the adoption. Spay/neuter, vaccinations, and microchip are included in the adoption fee. Dogs may require a separate licensing fee.
Confirm, verbally, that you are allowed to have a pet where you live. You should check with your landlord, renter's insurance, home insurance, etc. on any restrictions on number of pets, size, breed, etc.
Never have had any cruelty convictions, animal control violations or broken any adoption contracts in the past
Agree to and sign the "Statement of Adopter" on the adoption questionnaire which includes a waiver of liability
No holds – we cannot hold animals for any reason. For example:

If you do not move forward with adoption after meeting an animal, another person may ask to meet the animal and the animal may be adopted by them
If you do not meet these adoption requirements, we cannot hold the animal while you meet the requirements
If you adopt, you should be prepared to take your new companion home with you on the same day as we cannot hold the animal for you at the shelter

Dog adoptions – additional requirements:

If you have a resident dog(s) at home, you must bring your resident dog(s) to meet the new dog

Bring an additional person to stay with your dog either in your vehicle, or somewhere nearby outside the shelter. Due to the number of dogs at the shelter, your dog may not be brought into the shelter until you are ready to adopt a dog, at which time shelter staff will conduct a dog-to-dog introduction
On occasion, the dog/dog meet requirement may be waived by staff. This is done only on a case-by-case basis, and is dependent on several factors including sociability of the dogs around other dogs, experience of the adopter in introducing a dogs to each other, whether there is a large size difference between the dogs, etc.

Agree to a possible future home inspection if the dog is a large breed dog or dog that has been identified to need additional attention
Be aware of the Oakland and State Laws about dog ownership

Rabbit adoptions – additional requirements:

If you have already have a rabbit at home, we require a rabbit-to-rabbit introduction. Please email rabbits@oaklandsanimals.org to inquire about scheduling a meet

All animals, including rabbits, must be spayed or neutered. If the pet you are interested in adopting is not yet spayed/neutered, a staff member or volunteer will discuss next steps with you. Note that you may be asked to return on a specific date to pick up the animal after their spay/neuter surgery.
Adoption Fees
 We are currently offering waived/reduced adoption fees!
Dog/puppy: adoption fee waived! ($17 licensing fee required if adopter resides in Oakland)
Cat/kitten: adoption fee waived!

A pair of cats/kittens: adoption fee waived!

Rabbit: $20
Guinea pigs: $10

A pair of guinea pigs: $10

Pigeon: $10

Dog/puppy: $150 (plus $15 licensing fee if adopter resides in Oakland)
Cat/kitten: $75

Two bonded cats/kittens: $75

Rabbit: $40
Guinea pigs: $15

Two bonded guinea pigs: $15

Pigeon: $10