Since 2005, Friends of Oakland Animal Services has been on the front lines working to care for animals in our community. We are a 501(c)(3) charitable organization that works to support Oakland Animal Services. Please make a tax-deductible charitable gift today to help us provide homes, health, and happiness to Oakland's homeless animals.
FOAS is proud to partner with Oakland's only open-door agency, where we have the opportunity to improve the lives of the greatest number of animals. Join us by making a donation today, or contact us to let us know other ways you'd like to help.
FOAS Pet Fix Program Free Spay and Neuter for Oakland Dogs and Cats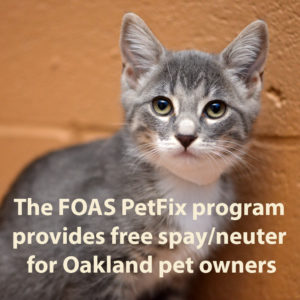 Friends of Oakland Animal Services offers free spay and neuter services to dogs and cats of Oakland residents. Through our spay and neuter clinics and voucher program, we aim to ensure that financial need is not a barrier for Oakland residents seeking spay and neuter surgeries for their animals.
Your donation supports FOAS main funding areas which include:
PetFix is FOAS free spay and neuter program for Oakland residents
Emergency and specialized medical care
Equipment needed to help veterinary staff better care for shelter animals on-site
Adoption outreach and foster program support
The creation of indoor and outdoor play areas and better animal housing, including general supplies and repairs
Transportation of animals to both local and out-of-state partner rescue groups
Tools to help with Oakland field services, including digital cameras for staff to document cruelty cases and laser thermometers to determine the temperature inside parked cars
Materials, training, and other supplies for the volunteer program that is integral to the quality of life for shelter animals
Contact FOAS
Friends of Oakland Animal Services
P.O. Box 3132
Oakland, CA 94609

(510) 764-3627
FEIN / Tax ID: 20-4053711
Learn more about FOAS: Mission | Team | Financial Summaries