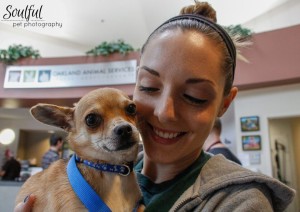 Volunteers are absolutely essential to Oakland Animal Services. Not only do OAS volunteers benefit from a fun and rewarding experience, they also significantly improve the lives of the animals at the shelter. Spending time with the animals, increasing adoptions by helping citizens find the right pet to join their family and making new friends along the way, volunteers remain the driving force behind OAS.
After completing our training, volunteers socialize and provide adoption counseling for the dogs, cats, rabbits, pocket pets and occasional reptiles in our care.
Volunteers also assist us in other areas including grooming, veterinary assistance, marketing, graphic design, offsite adoption events, hiking or running with our shelter dogs, fostering, transporting… in other words, let us know your skill set and we will match you with an opportunity!
Ready to help? Here's how.
Group Volunteering
Due to staffing challenges we are not able to accommodate large group projects on site at this time.  Your group can still support us by doing a donation drive, visit our Wishlist for ideas.
Donate
If you don't have time to volunteer, you can still help Oakland's animals by making a donation to the Friends of Oakland Animal Services or make an in-kind donation from our Amazon Wishlist.
Our volunteers truly make a difference. Watch volunteer groomer Cindy create one of her "Trans-fur-mations":