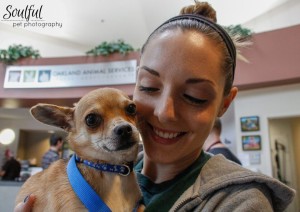 Volunteers are absolutely essential to Oakland Animal Services. As an OAS volunteer you will not only benefit from a rewarding and fun experience, but also have a significant impact on the lives of the animals and people in our community. Volunteers are indeed the driving force behind OAS.
OAS volunteers take on many different roles. For some volunteer positions, we provide the training required, while other volunteer positions require previous experience and an existing skillset. All volunteer positions do have minimum requirements to ensure that volunteers are an appropriate fit for the role.
We are so excited that you are considering volunteering at OAS!
Ready to help? Here's how.
Group Volunteering
We are not able to accommodate large group projects on site at this time.  Your group can still support us by doing a donation drive – visit our Wishlist for ideas.
Donate
If you don't have time to volunteer, you can still help Oakland's animals by making a donation to the Friends of Oakland Animal Services or making an in-kind donation from our Wishlist.
Our volunteers truly make a difference. Watch volunteer groomer Cindy create one of her "Trans-fur-mations":