Jump to: Volunteer Position Descriptions | Other Ways to Help | Group Volunteering | How to Volunteer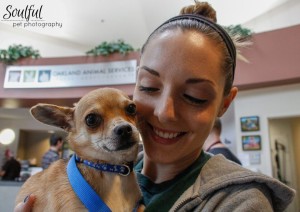 Volunteers are essential to Oakland Animal Services. As an OAS volunteer you will not only benefit from a rewarding and fun experience, but also have a significant impact on the lives of the animals and people in our community. Volunteers are indeed the driving force behind OAS.
OAS volunteers take on many different roles. For some volunteer positions, we provide the training required, while other volunteer positions require previous experience and an existing skillset. All volunteer positions do have minimum requirements to ensure that volunteers are an appropriate fit for the role.
We are so excited that you are considering volunteering at OAS!
Ready to help? Here's how.

Volunteer Position Descriptions
Each volunteer role requires a minimum commitment which is described in the position descriptions.
We currently do not have a youth volunteer program and can only accept volunteers over the age of 18 yrs. On occasion, volunteers who are 15-18 yrs old may be considered for the Enrichment Volunteer role or Dog Foster Program Assistant role if you volunteer together with an adult (the adult must also complete volunteer training and be present with you for all volunteer shifts).
Animal-handling volunteer positions:
Non-animal-handling volunteer positions:
These positions may be standalone (i.e. it is your primary volunteer role), or can be added on to an animal-handling position (e.g. a Dog Volunteer may also train to be an Enrichment Volunteer). These positions generally require fewer hours of training than animal-handling positions, so if you are ready to get started right away, one of these positions might be the right fit!
Roles requiring a regular commitment:
Roles on an as-needed basis:
Other Ways to Help
If you are not ready to commit to a volunteer position at this time, there are other ways you can help!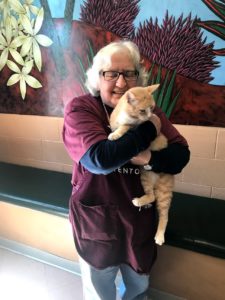 1. Foster: We need foster homes for kittens, dogs, and rabbits! Learn more about how to foster here
2. Help collect donations: Do you have a favorite pet supply store where you shop? You can help by asking if they have any donations for our shelter! We accept unopened treats and food that are just about to expire, or expired within the last month. We go through A LOT of treats every day to keep our shelter animals happy! If you have found a business that would like to donate, please have them email us here to coordinate pick-up or drop-off. While we are in constant need of treats, we can also use many other pet supplies as listed here.
3. Make hammocks: Our shelter cats and kittens need hammocks! Help us make hammocks by following the instructions here. After you have made some hammocks, email us here to arrange for a time to drop off.
4.  Donate: If you don't have time to volunteer, you can still help Oakland's animals by making a donation. We have many items on our Amazon and Chewy wishlists that we could really use at the shelter! Check out our wishlists here. You can also make a donation to Friends of Oakland Animal Services.

Group Volunteering
We do not have any group volunteering opportunities at this time. Your group can still support us by doing a donation drive – visit our Wishlist for ideas.
Our volunteers truly make a difference. Watch volunteer groomer Cindy in the video above create one of her "Trans-fur-mations".