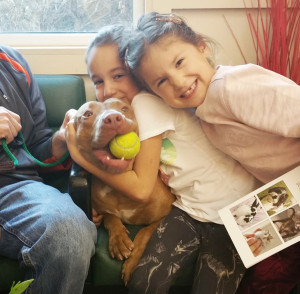 All dogs over four months old in Oakland must have a current rabies vaccination, be microchipped and have a current  City of Oakland license. Go to DocuPet to license your dog online.
Oakland Animal Services has partnered with DocuPet to provide an enhanced pet licensing experience for residents. Your pet's license now includes DocuPet's free HomeSafe™ 24/7 lost pet service and designer license tags with personalization options. Additionally, 20% of every designer tag purchase is donated to Oakland Animal Services through DocuPet's Safe&Happy Fund.
When you register your pet in the City of Oakland, you will receive a unique license tag to attach to their collar. Our new licensing process with DocuPet allows residents to select a standard license tag at no additional charge or upgrade to one of DocuPet's colorful designer tag styles for an additional fee.
Each DocuPet tag, standard or designer, doubles as a pet's official City of Oakland license and comes equipped with the HomeSafe™ 24/7 lost pet service, which relies on a dedicated full time dispatch staff and linked pet profiles to help get lost pets home quickly.
Visit oas.docupet.com to license your pet now.
To license your dog, you must have:
Current rabies vaccination certificate
Microchip number
Proof of spay/neuter, if you are applying for the spayed/neutered license rate
Proof of owner's age, if you are applying for the senior (60+) license rate
License Fees:
Dog Licensing Fees

1 Year

2 Year

3 Year

Unaltered Dog

$113.00

$198.00

$255.00

Spayed/Neutered Dog

$17.00

$31.00

$45.00

Senior Person Discount (60+)

1 Year

2 Year

3 Year

Unaltered Dog

$85.00

$149.00

$191.00

Spayed/Neutered Dog

$12.75

$23.00

$34.00

Other Fees
Duplicate Metal Tag
$9.00 each
Duplicate Metal Tag (senior discount)
$2.25 each
Penalty Fee (expired license)
$15.75
Transfer Fee (ownership change)
$28.00
Microchipping:  Oakland Animal Services can microchip Oakland dogs and cats for $10.  You can also have your pet microchipped at your veterinarian or local vaccine clinic.
Rabies Vaccines:  Oakland Animal Services does NOT provide rabies vaccines to non-shelter dogs.  You must take your dog to a veterinarian or a vaccine clinic to be vaccinated.
Exemption for Rabies Vaccine:  If your veterinarian determines that your dog should not be vaccinated for rabies because of a medical issue, please have your veterinarian complete the Canine Rabies Exemption Form.  Please follow the directions listed on the form to submit to the Alameda County Vector Control.  If APPROVED, you can submit the form to Oakland Animal Services to purchase a one year dog license.  You will need to resubmit the form each year to renew your dog license.  *Please note that the State of California does NOT accept rabies titer testing results as proof of rabies vaccination.