Free and low-cost vaccination clinics
Several organizations offer free or low-cost pet vaccines and other services for low-income residents of Alameda and Contra Costa Counties. Please go to the appropriate website below to get the latest information on these clinics. Oakland Animal Services does not have a public clinic and cannot provide vaccinations or veterinary services to owned pets. You may microchip your pet at Oakland Animal Services for $10 on a walk-in basis during open hours.
FOAS Free Pet Fix Program
Program Info
Friends of Oakland Animal Services offers free spay/neuter services to dogs and cats of Oakland residents. This free service includes microchipping your animal and routine vaccines as needed.
PALS East Bay
PALS Clinic information, Facebook Page

PALS provides free basic vaccines and microchips to East Bay pet guardians on a monthly basis. No proof of income is required but, because demand is high, the group asks that you come only if you cannot afford basic vet care. Spay and neuter assistance is also available! Puppies and kittens/cats must be in crates or held and dogs must be on a leash. Sick animals should not come.
Paw Fund
Vaccine Clinic information, Facebook Page
Paw Fund offers free pet vaccine clinics every four weeks at its location in Berkeley. The group can arrange "pay what you can" options for spay and neuter surgery through partner veterinarians.
Furry Friends Food Relief Program
Vaccine Clinic information, Facebook Page
Furry Friends assists residents of Contra Costa County (proof of residency is required) with low-cost vaccines and spay and neuter referrals.
Other low-cost veterinary services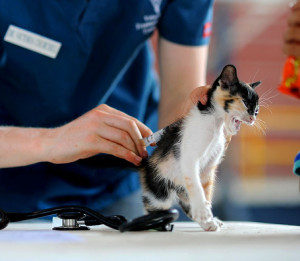 East Bay SPCA Drop-in Vaccine Clinic
Clinic information
The drop-in vaccine clinic is available only at the EBSPCA's Oakland location. Please check its webpage for pricing and services.
Animal Fix Clinic
Website, Spay/Neuter Information
Fix Our Ferals runs a low-cost spay/neuter clinic open to the public for dogs and cats — including feral kittens that you may find.
Ohlone Humane Society
Website
Financial assistance to low-income residents for spay/neuter, and vouchers for feral cat spay/neuter in Fremont, Newark, and Union City. Also co-pay domestic spay-neuter vouchers for pit bull terrier pets in the tri-city area.
Pet Food Express VIP Pet Care
Clinic information, Schedule
Pet Food Express retail stores host affordable and accessible veterinary care across the Bay Area. Take your cat or dog to any of the Pet Food Express stores to get comprehensive vaccines, standard heartworm and fecal test, pet microchip, de-worming services and more. No appointment is necessary, but these clinics occur on designated dates. Please check the schedule.
PetVet Clinic
Clinic information
PetVet Clinic offers vaccines and low-cost exams/consultations (unless a medical condition is present, there is no exam fee for medications and vaccines). Please check the website for pricing, signup times, and hours.
Spay the Bay
Website
Spay the Bay offers low-cost spay and neuter surgeries for dogs and cats in Berkeley and surrounding areas.